Calling all Teachers, register for a free EYFS, KS1&2 resource plus take part in an amazing online pupil concert. Get ready to Join the Jam!!!
Dear teacher,

SUPER. the producers of Meccano STEM Clubs and Monopoly GO Maths resources are pleased to announce a completely free, new music resource and streamed pupil concert in partnership with Sony Music/Magic Star and featuring the wonderful YolanDa Brown from CBeebies' YolanDa's Band Jam.
Join the Jam Music resource is fronted by the wonderful YolanDa Brown (as seen on CBeebies' YolanDa's Band Jam). A FREE music resource developed for EYFS, KS1&2, it includes videos by YolanDa plus tracks taken from her album for children to learn.
Written by senior educators, the education topics and five lessons cover: lyrics, dance, making instruments, dynamics and more. The resource encourages pupils to connect and grow in confidence through the power of music with a little help from YolanDa and her Band Jam.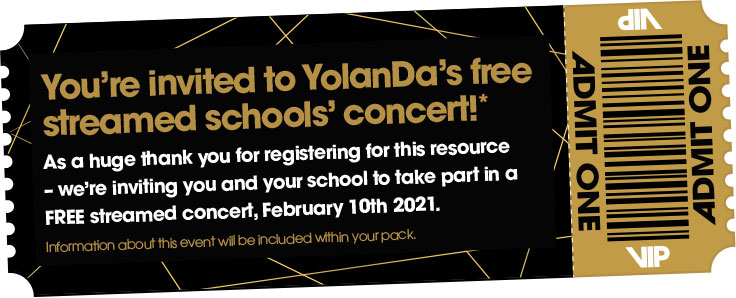 Dont miss out! We have limited teacher packs, so make sure you register today and you will receive*:
5 colourful and exclusive, cross-curricular ready-to-use music lessons (EYFS/KS1/KS2). We've included everything you need: Interactive whiteboard materials, teacher notes, curriculum links, lesson plans and pupil activity sheets.
Special pupil music stickers, downloadable certificates and a school concert poster promoting the free streamed concert – February 10th 2021
Access to specially recorded pupil messages from YolanDa, her music videos and tracks taken from her album – perfect in bringing to life the resources within your classroom!
Schools that register will also be in with a chance to be selected to receive an actual visit from YolanDa and the Band Jam.